AUTO STARTER REPAIR IN BROOK PARK, OH
A car that won't start can bring your day to a screeching halt. At Auto Repair Technology Inc in Brook Park, OH, we provide the fast, reliable starter repair service you need to get back on the road and back to your routine quickly and cost-effectively.
RELIABLE SERVICE
There are a number of problems that can prevent a vehicle from starting properly. But effectively resolving the problem starts with an accurate diagnosis. At Auto Repair Technology Inc, our technicians are some of the best in the business. We have the skill and experience to diagnose the problem quickly and accurately, and then repair your vehicle with the utmost attention to detail. At Auto Repair Technology Inc, we treat your car or truck with the same care and respect we give our own vehicles. As our customer, you can expect exceptional service and results you can count on.
With Auto Repair Technology Inc in Brook Park, OH, your car is up and running in no time flat. Call today to schedule your service appointment.
AUTO BATTERY REPLACEMENT IN BROOK PARK, OH
You rely on your car to get you wherever you need to go. So when the time comes to replace your vehicle's battery, you need a team that can get the job done quickly without charging a fortune. And that's precisely where we come in.
RELIABLE SERVICE, REASONABLE RATES
At Auto Repair Technology Inc, we understand that auto repairs can be expensive. And we also know that in most cases, auto repairs are a must, not a choice. That's why we go out of our way to keep our pricing affordable, all the while maintaining the high standard of quality our customers deserve. When you come to us for auto battery replacement, you'll benefit from our:
Commitment to excellence

Convenient hours and scheduling

Attention to detail

Knowledgeable, courteous auto repair professionals
If you need your car's battery replaced, trust our team to provide quality service that won't break the bank. Call or stop by today to make your appointment.
IGNITION REPAIR IN BROOK PARK, OH
When it comes to your vehicle, a malfunctioning ignition is something you should never ignore. After all, without a properly working ignition, you could easily find yourself stranded without warning. So if you're in need of reliable ignition repair services in Brook Park, OH, take your car to Auto Repair Technology Inc.
THOROUGH, DEPENDABLE REPAIRS
At Auto Repair Technology Inc, we take a detail-oriented approach to all we do. We understand how much you rely on your vehicle, and when you come to us for ignition repair work, we'll take the time to get the job done right. Every member of our team is dedicated to providing the thorough service you deserve; and we're committed to keeping our rates reasonable without skimping on quality.
If your car's ignition needs professional attention, don't wait to have the problem addressed. Call or visit Auto Repair Technology Inc today to schedule an appointment for ignition repairs, and keep your car running smoothly.
Jump starting your vehicle
To safely jump start, follow these steps:

1. Take out your jumper cables. It's a good idea to buy a set of jumper cables and keep them in the trunk compartment. If you don't have jumper cables, you'll have to find a Good Samaritan who not only is willing to assist you but has jumper cables as well.

2. Place both cars in Park or Neutral, with their ignitions shut off and their emergency brakes on.

3. Connect the cables. The positive cable has red clips (+) at either end, and the negative cable has black clips (-). It's important to attach them in the following proper order: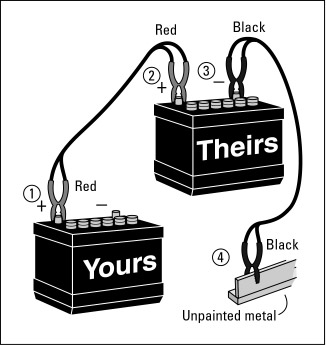 1. First, attach one of the red clips to the positive terminal of your battery (it has "POS" or "+" on it.

2. Attach the other red clip to the positive terminal of the Good Samaritan's car.

3. Attach one of the black clips to the negative terminal on the Good Samaritan's battery.

4. Attach the last black clip to an unpainted metal surface on your car that isn't near the carburetor (if your car has one) or battery.
Figure 1 shows how both the positive and negative cables should be connected.

Figure 1: Make sure to connect jumper cables in the proper order.

5. Try to start your vehicle (Do not have the Good Samaritan's car running. If your car has electrical issues it could damage their car as well). If it won't start, make sure that the cables are properly connected. Then try to start your car again. If it still won't start, your battery may be beyond help.

6. Disconnect the cables, thank the Good Samaritan, and resume your life.
Don't shut off your engine; drive around for a while to recharge your battery.
NOTE: Improper Connection of Cables can damage either or both vehicles charging system.